The growing season is drawing to a close, but if you make some preparations before it's over, you can preserve (in both senses of the word!) those Mediterranean flavours well beyond the summer. By conserving vegetables and herbs when they are at their best (in jars or by other means), you can enjoy them even in the middle of winter—a bonus if you want to prepare Mediterranean-style food at home!  
Eggplants are one of the staples of Mediterranean cuisine and they grow in abundance here in Quebec. After grilling these vegetables on the barbecue for, say, a baba ghanoush or as the topping for a vegetable pizza, keep the leftovers and use them for seasoning. Marinated eggplants go well with pasta, or as a filling for sandwiches or when serving many mezzes to your guests.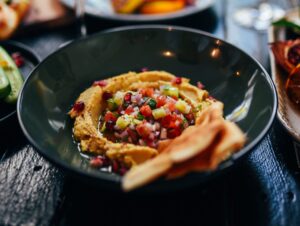 Tomatoes are so versatile! At the end of the summer, buy or pick a huge quantity of them to make a homemade puree or preserve. When slow roasted in the oven, caramelized tomatoes make a great addition to pasta, as a topping for pizza or as a dip for flatbread.  
When you clean up your vegetable garden, save the fresh herbs that you didn't use during the summer and dry them. Rosemary, dill, oregano, basil, thyme—all of them are suitable for drying! Make herb bouquets and hang them in a dark, dry place. You can also dry the herbs for a few minutes in the oven, before storing them in airtight jars.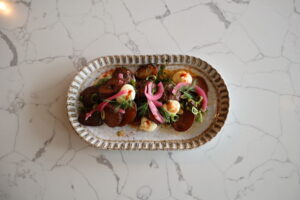 Homemade pickles are so good and much easier to prepare than most people think!  These crunchy cucumbers make the perfect accompaniment to Fattoush or a Greek salad, as a garnish with fish or in autumn burgers. 
Tomatoes aren't the only ingredients frequently featured in Mediterranean cuisine. Red peppers are too! When peppers are in season, grind them into a puree, then freeze or preserve the resulting coulis in jars. When winter rolls around and you feel like a "sunny" fix to remind you of summer, you can blend the puree into a dish of pasta, use it as a sauce for a pizza, a garnish for grilled meat, a tasty dip…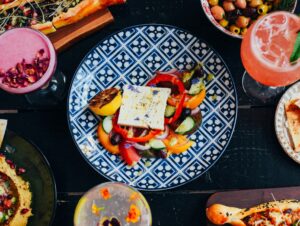 You can never have too much garlic! Garlic confit can be used as seasoning or to spread on bread, then grilled to really bring out garlic's distinctive flavour. Another idea is to store freshly peeled garlic cloves in oil. They'll keep for several weeks, and the delicious aroma of the oil will lend a gourmet touch to any dish.  
Did you know that in Quebec, you can pick your own artichokes? La Fille du Roy in Montérégie is a U-Pick farm where the general public can do just that! You can stock up on this vegetable—in actual fact, the unopened flower bud of a type of thistle—and if you preserve it in oil, it makes a great garnish for a (still hot) flatbread or as an oh-so-trendy accompaniment to an aperitif! 
During the summer, zucchini is so abundant that it's a good idea to keep a good supply at hand. Zucchini relish is easy to make, and you can put it on all kinds of food. We flavour our zucchini relish with a good measure of ras el hanout spices when we serve fish or flambéed shrimp. The relish also goes well with lamb burgers, veggie pizzas, or as a condiment for a cheese board of local produce.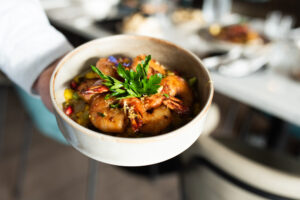 And if you have a hankering for Mediterranean food without going to a lot of trouble, well then, come and see us at Kóz bistro. Fresh, exotic flavours are always on the menu—no matter what the time of year!  
---
To read our other blog posts, click here !