Round out your meal in style! Kóz offers a wide range of alcoholic and non-alcoholic beverages—freshly made, colourful cocktails and an extensive wine list featuring a number of private imports.
If you fancy just an aperitif, you can order one at our large, central bar.
Koztails
Refreshing
Hedone
13
Cherry River maple vodka, fresh lime juice, grapefruit juice, Bleu Lavande syrup
---
Aphrodite
12
Panoramix gin, blueberries, grapefruit juice, fresh lemon juice, peach syrup, egg white, rose water mist
*Mocktail available
Bitters
Hera
12
Ketel One Botanical Cucumber & Mint vodka, Campari, fresh lemon juice, simple syrup, watermelon, soda
*Mocktail available
---
Gin & Kozy
12
Tanqueray Malacca gin, Seedlip Spice 94, Moroccan spiced syrup, fresh lemon juice, 1642 Tonic, rose buds
*Mocktail available
Smoked
Old Stromboli
14
Bulleit bourbon, syrup of Lapsang Souchong tea, cardamom and black pepper bitters, Talisker 10 whisky mist
---
Hephaistos Sour
15
Johnnie Walker Black Label 15 years scotch, Earl Grey tea syrup, fresh lemon juice, Angostura bitters, egg white
Beers
(glasses)
Coors Light (Light blonde lager, 4%) – 7.50
Griffintown, Brasseur de Montréal (Regular blonde ale, 5%) – 8.50
Loxley, Brasseur de Montréal (English red ale, 4%) – 8.50
Belgian Moon (Belgian white ale, 5.4%) – 8.50
L'Amer IPA, Brasseur de Montréal (Strong blonde ale, 6.8%) – 8.50
Normanville, Brasseur de Montréal (Hazy IPA, 4.8%) – 8.50
MacTavish, Trou du Diable, (American blonde pale ale, 5%) – 9
Heineken (European blonde lager, 5%) – 9
Heineken 0.0 (Non-alcoholic blonde lager) – 7.50
Champion (New England IPA, 6.5%) – 8.50
Allez Pou-Pou (Bio session IPA, 4.5%) – 8.50
Glutenberg blonde (Blonde ale, 4.5%) – 8.50
Klassicocktails
Mojito – 10
Amaretto Sour – 10
Bloody Caesar – 10
Long Island Iced Tea – 10
Aperol Spritz – 10
Old Fashioned – 12
Negroni – 12
Gin Martini – 12
Vodka Martini – 12
Sangrias
Glass – 12 | Pitcher – 32
Lemon mint
Lemon and mint puree, white wine, white rum, Sprite
---
Strawberry basil
Strawberry and basil puree, rosé wine, elderberry liqueur,
strawberry and rose syrup, soda
---
Raspberry
Raspberry puree, red wine, Triple Sec, orange juice, soda
Pot of iced tea (alcoholic)
for 2 people
Rose & Hibiscus
20
Vodka, rose and hibiscus black tea, grapefruit and lemon juice,
rose syrup, Angostura bitters, soda
---
Goyave
22
Spicy rum, guava black tea, peach syrup, Creole bitters, soda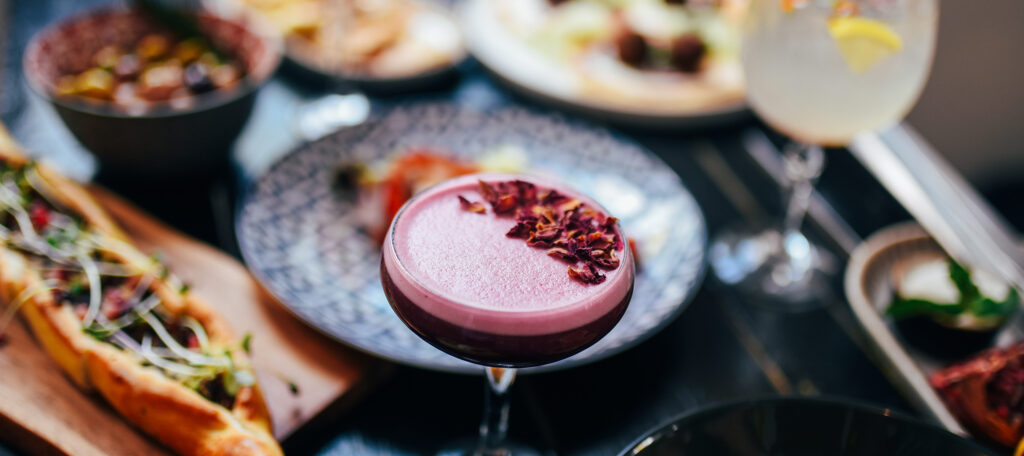 G

Kóz Makes a Great Gift!
Versо̄, Kóz, Espace 4 Saisons, Bistro 4 Saisons, Burger Pub, Escapades Memphrémagog and OMG Resto.
Give PAL+ experiences as a gift!