There's a newcomer on the Eastern Townships' gastronomic scene. Kóz bistro in downtown Magog, just opened its doors!
Kóz, an abridged version of "kouzina", means "cuisine" in Greek. It's also the name of a small island off the coast of Turkey—both of which were the inspiration behind the name of this unique restaurant.
The bistro is a first for the Townships. There is nothing else like it in the region. A visit to Kóz is an experience, a journey in itself!
Refined, World-Class Cuisine
Zaatar, smoked paprika, grilled lemon and mint are just some of the herbs and spices that will tantalize your senses!
The bistro exudes a warm, welcoming ambience, enhanced by a sophisticated cuisine with sharing dishes that showcase fresh produce and simple ingredients, laced with the flavours so typical of the Mediterranean.
The menu will transport you to that region—cold and hot mezzes, falafels, koftas, kebabs, meat raised by local farmers, fish and seafood, as well as mixed salads…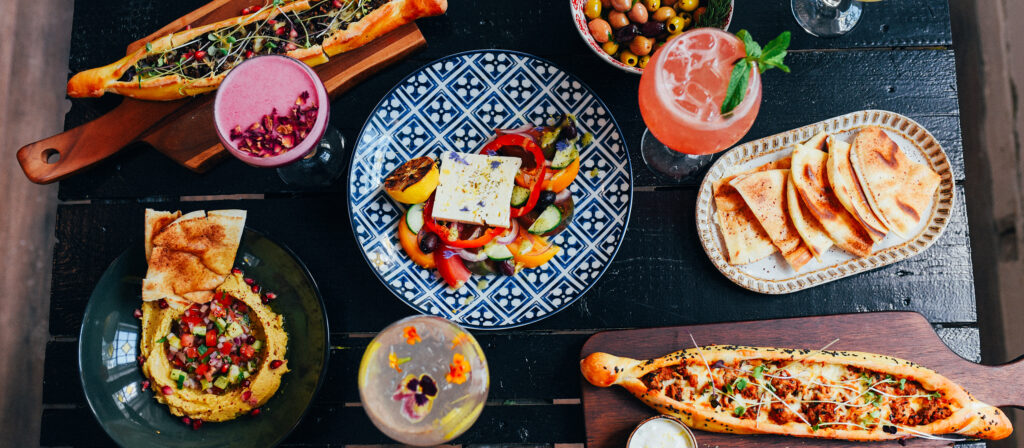 A Passionate Team
This culinary journey is the brainchild of Executive Chef Geneviève Filion. A native of the Eastern Townships, she has been a prominent figure on Quebec's gastronomic scene for many years. An avid traveller, her trips abroad have inspired her to create the fragrant, memorable dishes offered at Kóz.
Her colourful personality and generous spirit shine through her culinary creations.
These "discovery" dishes are augmented by wines carefully selected by Sommelier Michael Otaka, whose curiosity and expertise are evident from the wine list. Michael suggests pairings that harmonize with the Chef's creations.
The Kóz experience wouldn't be complete without the personal touch of Restaurant Manager David Théberge. Until recently, he was the General Manager of OMG Resto in Sherbrooke.
David has put together a dedicated, professional team who will guide you on your "journey" to the Mediterranean. Your culinary trip awaits!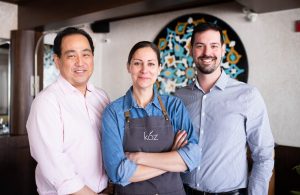 A Unique Décor and a Unique Location!
Kóz bistro is situated just beside the brand new Versō hotel located on the shores of Lake Memphremagog in downtown Magog. The bistro terrace offers a great view of one of the most beautiful lakes in Quebec. As you tuck into a meal, you can well imagine yourself transported to the Mediterranean!
The décor of the dining room also immerses you in the ambience of that region. The contemporary decor with its Greek and Turkish accents, brings you into a different world—a setting created by Camdi Design, a long-time partner of the PAL+ group.
No need to travel around the planet. Escape to Magog instead! You'll be won over pretty quickly…
Extend your getaway for a few days by basing yourself at Versō hotel. Museums, hiking trails, bike paths and a multitude of outdoor activities are just some of the things within easy reach. They'll make you work up an appetite for a really good meal with your fellow travellers!
Versō hotel and its bistro are just the latest projects launched by PAL+. Its other tourist attractions include OMG Resto in Sherbrooke, Espace 4 Saisons, Bistro 4 Saisons and the Burger Pub in Orford, as well as Escapades Memphrémagog's cruise boat.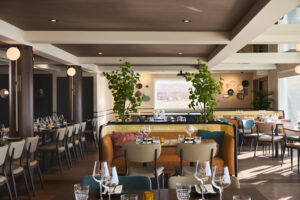 ---
To read our other blog posts, click here!