If you've ever eaten at the Kóz bistro (or travelled around the Mediterranean), you're probably familiar with the concept of mezze—platters of small, individual dishes filled with a variety of tasty snacks (some hot, some cold), which are served as a main meal. Typically placed in the centre of the table so diners can help themselves to what they like, the culinary tradition of mezzes comes from countries around the Med such as Greece and Turkey.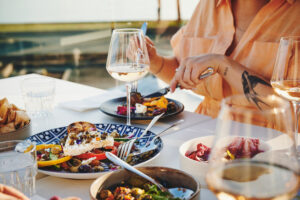 What to Serve?
Want to serve mezzes for dinner? If you're expecting a large number of people around your table, putting together a large enough quantity of ingredients is essential!
First, you'll need creamy and nutritious dips—hummus (chickpeas), baba ganoush (eggplant), tzatzíki (yogurt and mint) or muhammara (red peppers). Next, pita-style flatbread and raw (preferably seasonal) vegetables for the dips. You can also add olives to the mix and other marinated condiments, as well as cheeses like feta and grilled halloumi.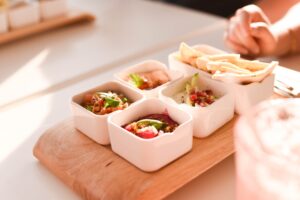 After those, comes meat—lamb kebabs, beef keftas and chicken shawarma. Among the other traditional mezze ingredients are vine leaves, fried squid and the famous falafel: spicy, mashed chickpeas. Top off the mezzes with a refreshing Fattoush salad (cucumbers, tomatoes, mint, sumac) or tabbouleh (couscous and parsley).
The main thing to remember is that even though served in small portions, a mezze is, in fact, a main course. It's vital therefore, to prepare enough food to satisfy your guests' appetites!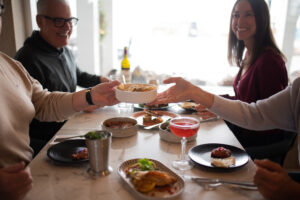 What to Drink?
Traditionally, mezzes are accompanied by an aniseed-flavoured aperitif. Depending on the region it comes from, that could be arak, ouzo or raki. These alcoholic beverages can be drunk on their own, or over ice, or diluted in a glass of water with a squirt of lemon juice.
Unsurprisingly, a good wine from the Mediterranean region (preferably white) makes the best accompaniment to mezzes! At the SAQ liquor outlets (and Kóz!), you can find wines from Greece, Turkey, Lebanon and even Georgia (the country, not the state!).
End your meal with a mint tea, a Turkish coffee or a floral infusion of hibiscus or rose petals. Better still is to finish up with sweet Turkish delight, or if you can't find it, make some yourself!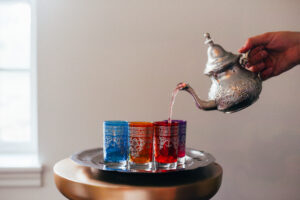 If all this has whetted your appetite, why not drop into Kóz and sample our mezzes for yourself? Our sun-dappled terrace offers views over magnificent Lake Memphremagog and in that setting, you can certainly imagine that you've somehow ended up in the Mediterranean!
---
To read our other blog posts, click here !